For years (and by years I seriously mean Y-E-A-R-S) I've dropped subtle and not so subtle hints at my longing for a Mac laptop. I've casually slipped it into conversation.
"Hey, Babe, dinner will be ready in fifteen minutes. Checked out the new MacBook Air's lately? Nice, huh?"
It was subtle, simple – understated.
I've passed by the Apple store in the mall and sighed longingly, not saying a word. Just sighing. I mean, I could have been thinking anything really, but I secretly hoped the true message would be interpreted correctly.
I've held up checks I receive in the mail and proudly declared that "this here $35.00 is going straight into my I-need-a-Mac fund. Now let's see here, if I pull in $35.00/month, it should take me this long to save all I need. I am on my way, baby!"
I've watched one PC die to motherboard failure after just a year and a half and I calmly took over the other PC, which runs loudly and heatedly the second you open her as if she's screaming for retirement. She was pushing two and a half years, which as we all know is 94 in PC years. I was waiting impatiently for her to kick the bucket so we would be without excuse given that a computer is necessary for me to work and all.
I mean that $35.00 a month isn't going to earn itself, ya know?!
Lee took the kids out birthday shopping on Saturday. As I have with every other birthday and Christmas for the last four years, I held out a tiny, secret hope that they'd come home with the coveted Mac. But we were headed out to a dinner party that night and the Apple store is a solid 30 minutes drive from the house and by the time they left I knew they wouldn't have time to drive to Apple and back home.
So I waited patiently for the shirt I was certain they'd buy me and I continued to scheme ways I could gather the funds needed to buy myself a new computer that didn't sputter and hack each time I fired it up.
They walked in about an hour later, the kids all grins. Sloan held something behind his back and offered up some cock and bull story about all the stores being closed and no present for me and I played along, but inside I was all C'mon, just let me see my new t-shirt.
And then they pulled out a box that said MAC on the side and I had a small heart attack and dug myself out of the chair with a loud "THIS IS SO MUCH BETTER THAN A T-SHIRT!"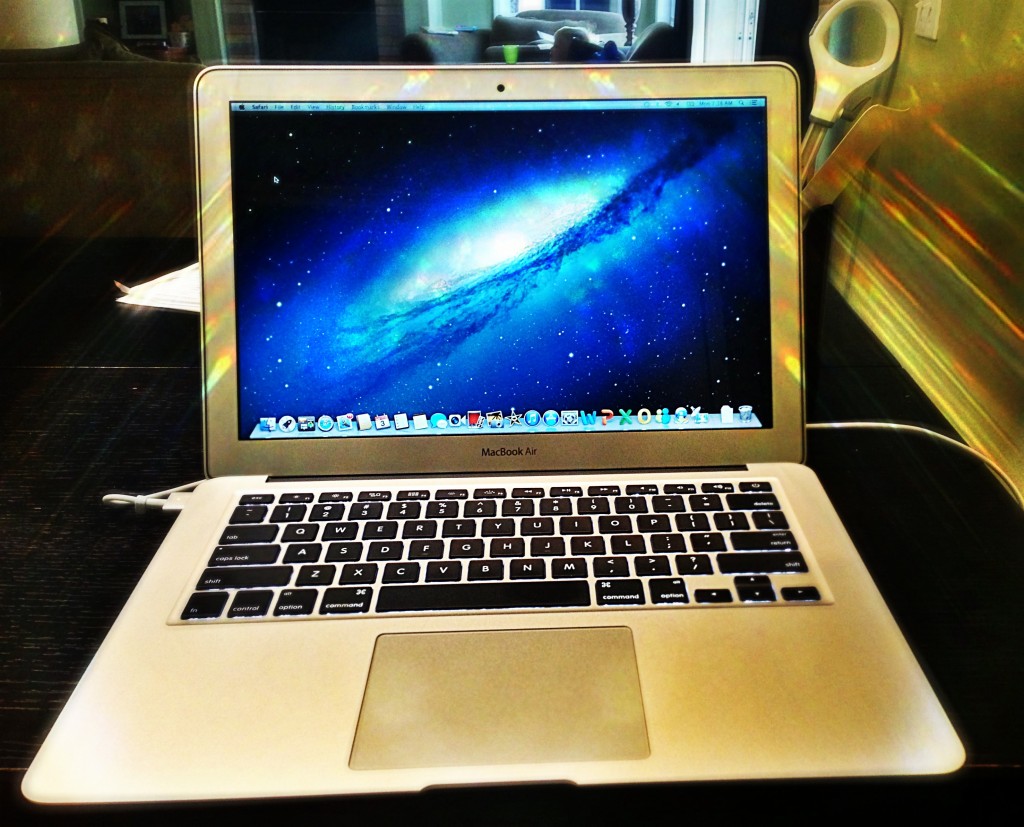 Everyone, meet my new computer. Her name is Penelope, but you can call her Penny for short. She very hipster. I feel like I should stock up on trendy glasses now and only drink Venti non-fat, extra-hot, extra-foam, no whip Starbucks lattes. I briefly considered tossing my yoga pants because I fear they would offend Penny, but then I decided, nah. Penny is a progressive  and completely modern hipster. She's totally jive with the yoga pants, but I should probably pair them with a trendy head wrap and a scarf…and possibly a ring on my thumb and pointer finger. I'll probably throw on a pair of skinny jeans now and then, though. I don't want to embarrass Penny or anything.
So I'm all Mac now and once you go Mac you never go back right?
Ah, Penny just giggled. I made her laugh…
Now, if Penny could kindly explain all her little gadgety functionability to me, it would be greatly appreciated. There are a couple of buttons I'm afraid to push because, you know, WHAT DOES IT ALL MEAN?! (I think one of them might control China. I'm not certain, but it seems entirely plausible.)
So I'm off to play around, push buttons (sorry China) and see if I can't figure this thing out a bit. In the meantime, tell me – do you have a Mac? What is your favorite thing about it? What is the one thing you think I should know as I start to figure this all out?