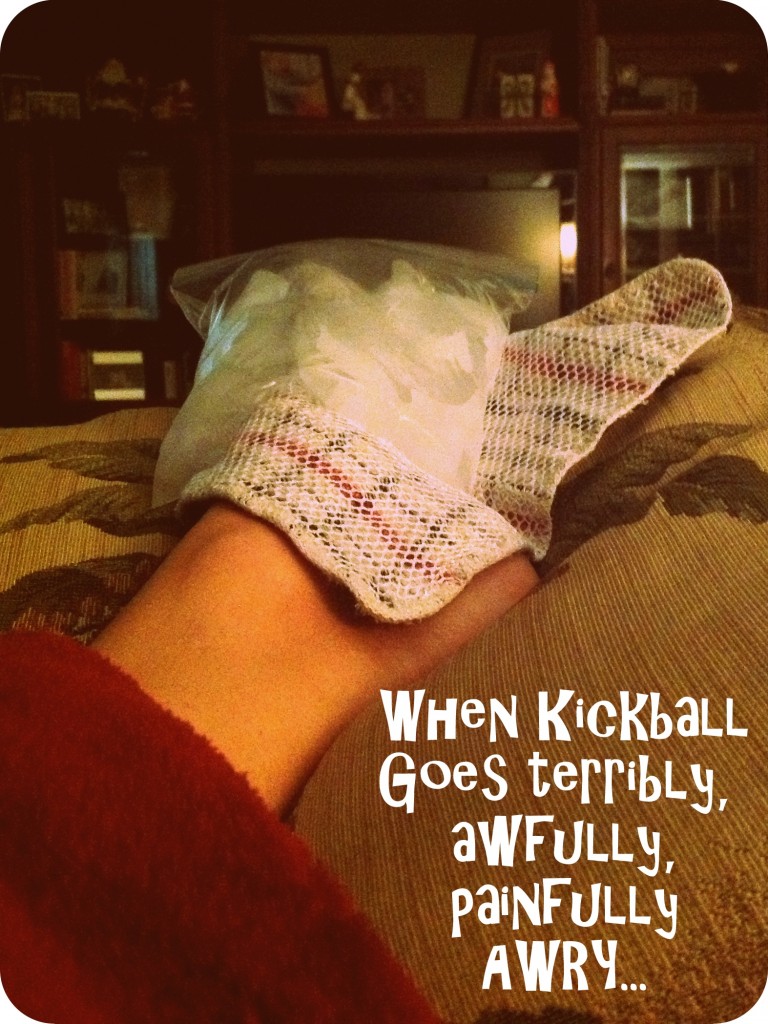 You know those days when nothing seems to go right and you think, "Golly Gee. I sure wish this icky day would skeedaddle."
Or, you know…something along those lines.
Well, folks. THAT was our Monday. Totally and completely icky. Like, not swell, man.
The day started alright. Christmas decorations were up, the house was fairly clean despite half of Orlando having visited over the weekend and I got ten pages of my novel written. It seemed like one of those sunshiney days that musicals are made of. I think, actually, that's what made everything go awry. The day was too perfect. There's nowhere to go but down from perfection.
The kids came home from school in great moods. They were jazzed and revived after a week off and immediately set into their homework in a way that was almost freaky in a Stepford kinda way. Tia even took her homework outside because it was freaking 74 degrees out. Even Mother Nature felt pretty good about herself.
Apparently, however, the devil wanted to ruin this idyllic day. It started when Tia came in to play. Everyone was cheery and happy for about thirty minutes. Sloan sat on the couch playing the iPad and Tia leaned over his shoulder to watch.
Then she shrieked.
"Something's poking me!" she cried, yanking on her pants leg. I assumed she had some kind of sticker from outside and tried to pull her hands away from her leg, but she began trembling and crying and she dashed to her room, yanked the pants off and threw them at me. I picked them up and shook them and Hark! A massive bee fell out. Tia came out moments later with four large welts on her knee.
Strike one to the perfect day.
An hour later, half the neighborhood was over playing kickball in our backyard. Lee came home and, ever the awesome Daddy, he joined in on the game. Because I'd already started dinner, had laundry going, had the house cleaned and in general had nothing else to do, I decided to not be a fuddy duddy and join in on the neighborhood kickball game.
Truth be told, I succombed to Mom-Guilt. I felt bad for not playing with my kids and decided the nice mommy thing to do would be join in. I had on my Ugg boots and briefly considered changing the, but then decided, "Nah. I'll just kick a couple of times then bow out."
On my second kick, as I ran the bases, my left boot slipped a little, curling my toes underneath and sending all my weight onto the top of my foot.
Friends, the only pain I've ever felt worse than that was natural childbirth. It was as though someone lit my foot on fire and to make matters worse all the neighborhood kids were gathered around so I could neither cry or curse, both of which I wanted to do in abundance.
So four bee stings and a broken foot. Day's not shaping up well. (And yes, the foot's broken. I got an X-Ray just to be sure. It's just a hairline fracture and should heal quickly. I also learned that I have two bones in my foot that are not connected and likely have never been. It's a rare something or other people have from birth. So…there's something you didn't know about me, eh?)
As I sat on the couch nursing my swollen foot a neighbor boy came in looking for an iPad to play. He grabbed Lee's. He dropped Lee's. It shattered.
And that's when we sent everyone away and hunkered down for the night hoping to avoid any more lightening strikes.
There's a moral to this story, you know. No…"Don't Play Kickball in Uggs" is NOT the moral. "Don't let neighbor kids touch expensive electronics" isn't the moral, either, though is has been added to our house rules. No, those are not the morals to be taken from this story. CLEARLY the moral is "Mom-Guilt Clouds Your Judgement Making You Think That Playing Ball with Your Kids is Better Than Sitting Down in a Quiet House with a Book for Fifteen Minutes."
The End.
So…how's your week going so far, hmmmm?
PS: At the end of the day, I'm more than aware that we are so blessed. I am beyond grateful for all that we have and I don't share our horrible awful day to complain so much as to laugh a bit, because seriously?! How can all that go on in the span of just a couple of hours?!
So don't cry for me, Argentina…