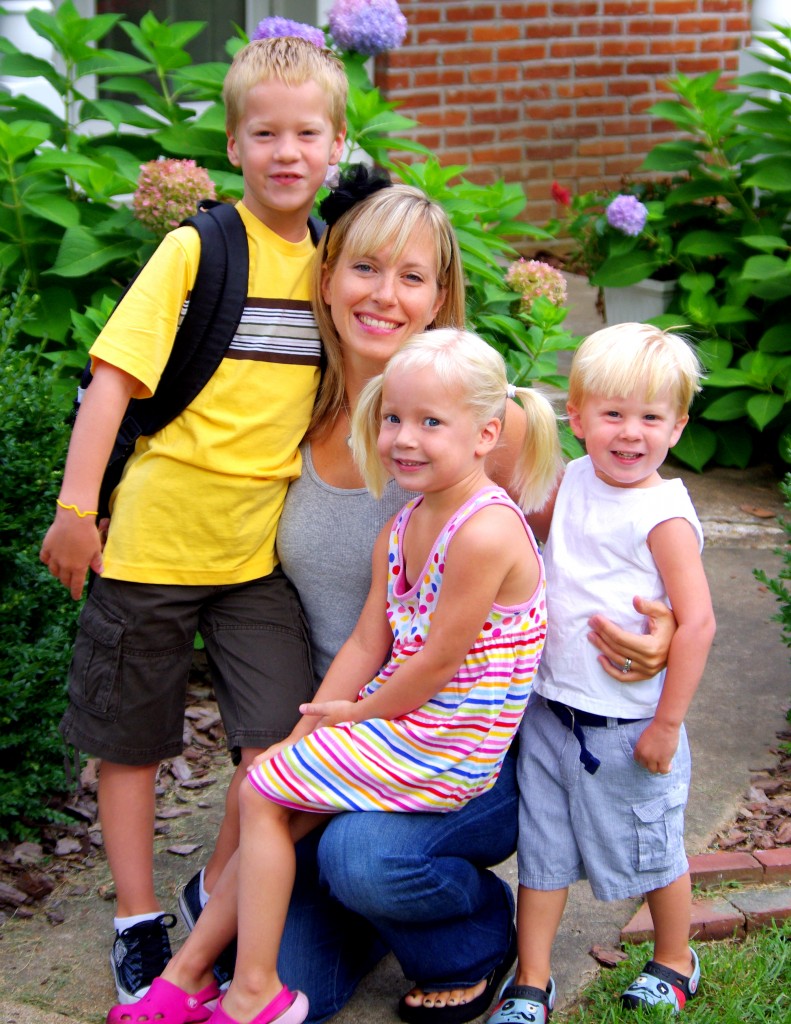 In recent months work has taken off for me quite a bit.  I'm at the tail end of editing a third book this year with a fourth lined up to start next week.  All four of these books fell in my lap and I have had more fun than I'd like to publicly admit fixing them up.  In addition to the books, I've started writing for a couple of other websites, am speaking next week at a social media event and am ramping up plans to send STL Family Life to the next level.
So many blessings.  I can't tell you how much it thrills me to have these opportunities, but…
I've struggled lately.  Am I doing the right thing?  Is this what I should be doing?  Am I being all that I need to be for my kids, my husband and my community?  What if this path is the wrong path?  Am I being selfish?
I've been wading through some insecurity lately.  When I began this blog almost three years ago I had no clue what blogging was all about.  I wanted to keep a record of life with three kids amidst the insanity of a new baby.  And now, while I still want to keep a record for my kids, I must admit I'm also doing this for me.  I'm doing it because I love to create.  I love that this blogging/social media business has helped me burst out of my bubble a bit and meet people I never would have met before.
Some of you may have a hard time believeing this, but by nature I'm a bit of an introvert.  Meeting new people scares the crap out of me.  Meeting people who are successful and funny and accomplished makes me feel like curling up in bed with a copy of Jane Eyre, a bottle of wine and a year's supply of PEOPLE magazine.
Sad, I know.
But in the last year I've found a new sense of confidence bubble beneathe the interior of my insecurity.  Part of it stems from my husband who never ceases to make me feel like I can conquer the world…and who tells me I'm hot on a daily basis.  Seriously can't get enough of that…
Some comes from the fact that my family all support my online writing with a great deal of glee.  I can always count on my parents to make me feel like I hung the moon.
But a large part of this confidence has come from dear friends and absolute strangers.  People here in town who have embraced me and encouraged me, taught me and challenged me.  People who are beautiful and successful and…nice.  Women who are great moms and great writers.  Women who stay at home, women who work at home, women who work outsdie the home, women of all stages of life…Women who tell me it's okay to pursue my dreams. 
So a new confidence is brewing inside.  But there is still guilt and insecurity.  You see, while I now feel confident in my ability to accomplish my goals and dreams, I question my motivation to do so.  I like that I can earn a little income and help support our family to a degree (or at least help take my husband on a rockin' European vaction, anyway), and I like the creative outlet writing and editing give me which make me a better mom altogether. 
But is it right? 
I read this post today by Megan at Velveteen Mind and it struck a chord in my soul.  My career is filled with lofty ideals and noble goals.  My family is my mission.  I can fail in my freelance career – I cannot fail as a mother.
The thing that's most frustrating about my current insecurities is that most of them have no base.  I'm not being unwise in my career.  I'm not sacrificing my family.  I'm not taking on more than I can handle (not now anyway) but I am struggling against this feeling of uncontentment.  I'm not content with my career because I want to take it to the next level, but I don't want to take it to the next level because I fear I'll sacrifice my family.  I've had enough work lately that I've tossed around the idea of hiring a babysitter for a couple of hours a week so I can get things done.  Oh the guilt I've felt for even thinking that!  Insane amounts…And here's why – I love what I do!  Writing and editing are not work for me.  So hiring a sitter once a week so I can hole up in Starbucks and have fun feels like an indulgence.  I'm still not sure if I'll do it or not…
And so I flounder a bit.
I don't share this to have the problem solved.  I think all moms deal with this to a degree.  We all have to balance who we are inside the home with who we are outside the home.  We all have passions and goals outside of motherhood and yet we all long to do nothing more than be great moms.  I share this just to share.  To get it out of my head and off my chest.  To verbally confess – I'm struggling with life balance.  No one in my family is suffering, everyone's healthy (emotionally that is – Tia has a nasty cold) and we are enjoying one another daily.  But I still battle within.
I don't think I'm alone in this…