On Saturday night, our family got to witness the beauty of adoption firsthand.  My dearest and oldest friend, Lindsey and her family welcomed a new addition in a most special way.  Lindsey's sister, Laura, and her husband, Luke, brought home their daughter from Ethiopia.
Meet Zemma.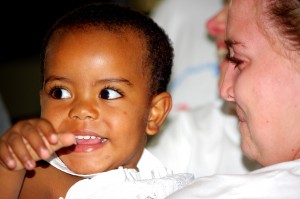 Isn't she yummy?
All I can think about when I see her little face is how her life has changed.  In an instant she went from orphan to daughter, sister, granddaughter, cousin and niece.  She went from no hope for a future to limitless possibilities.  She has been grafted out of loneliness and into a family.  A family that will love her unconditionally for all time.  A family that will pour into her.  A family that will teach her what it means not just to be someone's child, but what it means to be God's child.
Her life will never be the same.
What a beautiful picture it was and how honored we were to witness Zemma's homecoming.  To see the delight on her family's faces as they finally met the little one for whom they had been praying.  And as Laura and Luke walked up to the crowd of excited faces, I couldn't help thinking of what it would be like the day that I would cross the threshhold into my own heavenly home.  I too have been grafted into a forever family.  I too was once lonely, lost and alone.  I too will be greeted by those who are delighted to have me come home.  I too have been redeemed.  Out of the ashes came forth beauty.   
Adoption.
It's a marvelous thing.
Welcome Zemma.  May you forever and always cling to your Daddy.