We ended the decade last night with our neighbors, eating, drinking and dancing.  Adults and children all joined in on the fun as we played the Wii game, Just Dance.  If you don't have this game, I recommend you get it – we will be after playing last night.
This has  been a good decade.  Exactly ten years ago, I was engaged to the man of my dreams.  Lee and I went to downtown St. Louis to ring in Y2K, watching the fireworks and waiting for the world to end.  I'm so glad it didn't because our first ten years together have been filled with more blessings than I ever though possible.  We began our family with just the two of us in 2000 and we have now expanded to five.  We've made dear friends along the way and are more than excited to see what the next decade has in store.  If it matches this first decade of our marriage, then we are in for another good ride.
Happy New Year everyone!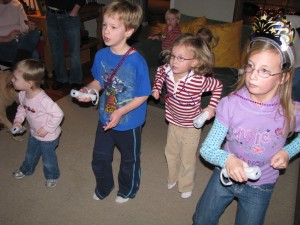 We ended up the night at home, in our jammies, where we counted down to midnight then shared New Year's kisses all around.