Do you ever have those days, or weeks, where you feel like maybe, just maybe, this is the moment when it will happen.  When every ounce of composure you've managed to muster up to this point has slowly been siphoned away and you will finally lose your mind once and for all?
Yeah, me too.  In fact, I've had a couple of days like that.  I love my children with every single fiber of my being, but, well, some days I feel like the life is being sucked out of me; like I can't suck in a deep breath between the constant demands that surround me.  And I'm just tired and frustrated.
I just sent my daughter to her room where I have half a mind to leave her for the rest of the day.  The trying three's are upon us and ohmygoodness, they are trying.  I told Lee last night that it's a good thing she's the cutest child in the world, because right now, she's just a little stinker.
I know that these years are short and they go by quickly and when they're gone I'll miss them and blah, blah, blah.  But today, right this very moment, I'm just fed up and annoyed.  Given that my face is breaking out like a prepubescent teenager, I am making the assumption that I'm also slightly hormonal, which is naturally not helping at. all.
Oh, and have I mentioned that my youngest, who is also about as cute as a child could possibly get, is teething and getting over a nasty virus which means he's crying near constantly?   Yeah, cause that helps mommy out a ton.
Some days this thing called motherhood drains the life out of me.  Some days, I just feel like maybe I'm not cut out for this.  I look around and see women all around me handling their children with such grace and patience and I, unwisely, compare myself to them.  All of the bad mommy moments rear their ugly heads and the good moments – the ones where I am that graceful, patient mommy – get buried.
I have to remind myself not to do that.
I know that we all experience these days.  I know it's okay.  I know that these years won't last forever.  I also know that I won't miss these moments where I feel bombarded, overwhelmed, under appreciated and generally frustrated.
What I will miss are these moments:
and these: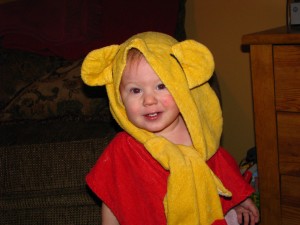 oh, and also these: 
The mounds of laundry, the constant mess, the crying, whining, fighting and general feeling of suffocation are only a small part of the picture.  They are worth it every time I get a grin, a hug, a silly dance or a funny observation.  There is redemption as I hear my five year old pray before dinner, beseeching God's mercy and grace on his family.  Those are the moments that I live for – the moments that make days like today tolerable.
Well, those moments and blogging, of course, because I feel much better now that I've vented for a moment.  Now, off to deal with the girl…